Melody Holt also known as Melody Shari is an Alabama-born TV personality and serial entrepreneur, who started off as an English teacher and rose to become a highly successful real estate mogul.
After being married for 14 years, the 37-year-old filed for a divorce from her husband, Martell Holt, which was finalized in 2021. They have 4 children whom they share custody of.
Personal Profile of Melody Holt
Full Name: Melody Holt (Melody Shari)
Date of Birth: November 11, 1985
Age: 37 years old
Zodiac Sign: Scorpio
Place of Birth: Brundidge, Alabama
Parents: Vanessa Rodgers Tracy
Nationality: American
Ethnicity: African-American
Sexuality: Straight
Marital Status: Divorced
Spouse: Martell Holt
Children: Martell Jr., Mariah, Malani, and Maliah.
Is Melody Holt Married? All About Her Love-Life
Melody was married to Martell Holt in July 2008. They met after she graduated from Alabama A&M University and secured a job as a middle school English teacher. Martell was also a teacher at the school where she was working.
Their marriage was blessed with four children, Martell Jr., Mariah, Malani, and Maliah.
After their wedding, they both quit teaching and started a joint business known as Holt & Holt Enterpreneurship, LLC. The company started as a lawn business but grew to become a multi-million dollar company that not only focuses on lawns but expanded to property restoration, rehab, and preservation.
14 years into their marriage, the couple divorced. It was revealed that Martell had an affair that birthed a child with his mistress. However, Melody did not know about the child until after they separated. The divorce was finalized in 2021 and they were given shared custody of their children. The Alabama-born has changed her name from Melody Holt to Melody Shari after the divorce.
The mother of 4 has dated other people after her divorce but has not revealed who. She said in an interview that she's focusing on her healing and making sure that whenever she gets into another relationship, it is going to be something real, pure, genuine, and solid.
Who is Melody Holt and Why is She Famous?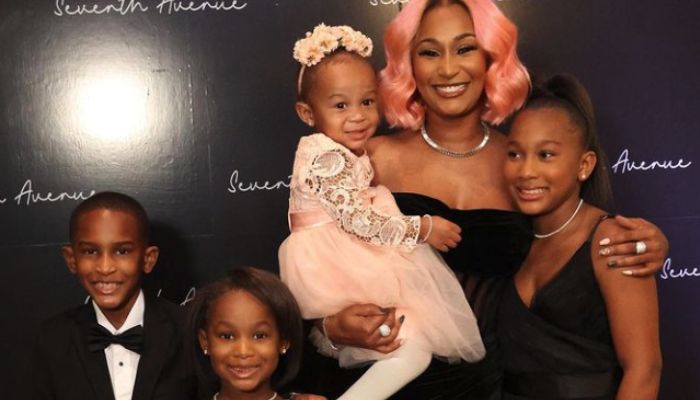 Melody Holt is an American entrepreneur, TV personality, and motivational speaker. She was born on November 11, 1985, in Brundidge, Alabama. Melody was raised by a single mother and did not speak to her father until she was a teenager.
She attended A&M University, Alabama, and graduated with a Bachelor's degree in English Language Arts.
Melody is a reality TV star, who appeared on the TV series, Love & Marriage: Huntsville, alongside her ex-husband Martell and other couples, Marsau and LaTisha Scott and Maurice and Kimmi Scott.  The show followed the lives of African-American couples living in Huntsville, Alabama.
The Love & Marriage: Huntsville star is also a singer. She released 2 songs in 2021 titled Tell Tale Signs and Sidechick Award released on March 19 and December 17 respectively. The songs addressed issues of fidelity and the courage it took her to walk away and heal.
Holt also has a couple of other things going on for her including MBrace Beauty Brand which she is the mastermind, the Holt Preservation Academy, and Masterclass with Melody, where she teaches participants how to launch, build, and sustain their own preservation business.
She is also a successful motivational speaker and has a women's empowerment brunch that brings women from various backgrounds to share stories about careers, love, and relationships.
To add to her list of accomplishments and careers, Melody Shari is an author. She has co-authored two books over time. First The 9-5 Entrepreneur: Twelve Questions To Consider Before Taking The Leap which she co-authored alongside her ex-husband, and Pretty and Prestigious: 7 Keys to Breakthrough and Inner Beauty with Kendra C. Sikes and Brandy Boulwen.
Other Interesting Facts About Melody Holt
Melody Admitted to Betraying Herself
The singer revealed that staying with her ex-husband, Martell was the biggest betrayal to herself and her children. She said that staying in the marriage did major damage to her and it took her time to heal.
Melody revealed that she had forgiven herself for not loving and respecting herself enough to walk away from her marriage at the time she should have. She also added that it affected the relationship she had with her children because she was so broken and hurt that it caused her heart to harden toward them.
The TV Personality will Never Reconcile With Her Ex-Husband
While Melody's ex-husband has been open to reconciliation, the singer is not, she clarified that she has given him enough chances already while they were together.
She added that she would literally rather die alone than get back together with her ex-husband cum business partner. Martell on the other hand expressed deep regret over causing the break of their marriage. He revealed he wasn't sexually satisfied which was why he looked outside.
However, it seems the regret did not last long as he seemed to move on. He is currently dating Real Housewives of Atlanta, Sheree Whitfield.
She is an Influencer for Different Brands
Not only is Melody a singer and motivational singer, but she is also an influencer for different brands including Seventh Avenue Premier Skincare. She has also collaborated with many brands to promote their services including clothing brand Shop J Bolin, a clothing brand for modern and classic women.
Melody Holt Sits on the Board of Several Organizations
The singer is a member of the boards of several organizations including the Huntsville/Madison County Chamber of Commerce Women's Business Council (WBC). She serves as an advisor to the College of Business and Public Affairs at Alabama A&M University.
Similarly, she is a member of the  Women's Economic Development Council (WEDC).
See Also: Heather Taras Is Daymond John's Wife: All We Know About Her
Her Mother is an Author
Melody's mother, Vanessa Rodger Tracy, is a published author. She is the author of Ushered Yet Abandoned: The Mask Of A First Lady.
Having singled handily raised Melody, she became the center of rumors accusing her of being the side chick of Melody's father in an episode of the reality TV show Melody was part of. However, Vanessa publicly debunked the rumors.
While betrayal in every form is hard to forgive and forget, we hope that the real estate mogul heals from the trauma caused by her betrayal of her ex-husband, finds love, and is happy again, while being an awesome mother to her kids.