Tracy Grandstaff is an American voice actress known for voicing Daria in the animation, Daria
She grew up with her father who was a theatre producer and although she was fascinated with his work, got discouraged and intimidated about acting
Grandstaff is a married woman and a mother who has worked in several top positions such as NBC, Comedy Central, and Nickelodeon.
Tracy Grandstaff is a talented American voice actress and writer whose career lasted almost a decade before she disappeared from the entertainment business.
Tracy Grandstaff is a voice actress known, fondly, for playing the role of Daria in the animated series Daria. Her career in voice acting started by voicing the three roles in Beavis and Butt-Head. With how successful her unique 'Daria' role was in the animation, Grandstaff went on to bag herself a personal series all about her character.
Before being a voice actress, the American was first and most comfortably, a writer. Additionally, she has moved up several ladders working in different positions and in different franchises.
Quick Profile of Tracy Grandstaff
Full name:  Tracy Jeanne Grandstaff-Gruber
Other Names: Tracey Grandstaff,  Tracy G Gruber
Career: Voice actress and writer
Date of Birth: November 1963
Age: 59
Place of Birth:  Ohio
Gender: Female
Ethnicity: White
Nationality: American
Star Sign: Taurus
Religion: Christian
Father: Russell James Grandstaff
Mother: Anne Grandstaff
Sibling: Brian Grandstaff
Relationship status: Married
Husband: Daniel Gruber
Children: Zoe Gruber
Tracy Grandstaff's Father's Job Exposed Her to the World of Entertainment
Tracy Jeanne Grandstaff-Guber was born in November 1963 in Ohio. Her father's name is established as Russel James Grandstaff while her mother is Anne Grandstaff. She is one of two children born to Mr. and Mrs. Grandstaff as she has a sibling named Brian Grandstaff. Her father, unfortunately, passed away on December 20, 2014.
As a young lady growing up with her dad, Tracy was exposed to theatre works and productions. Her father was a theatre producer at Western Michigan University in Kalamazoo. In an interview, Tracy Grandstaff admitted that she was obsessed with hanging out at the university.
Whenever she was off from school, Tracy found it delightful to go to classes with her dad and watch him. Soon, she grew fascinated with how he taught voicing, diction, directing, and acting. She also began to feel more connected to the world and would watch rehearsals. However, she soon realized that the job was a hard one and would be challenging for her. Young miss Tracy then sought something else that would work better for her.
With dreams of someday working with David Letterman on his show and on Friday Night Live, Grandstaff and her friend started a radio show on campus. This was in her Freshman year at Hope College. The show was titled 'The Love Squad'.
In order to face this challenge, Tracy took up classes on communication. The show comprised gossip and campus talks. With this, the American actress had a background in providing entertainment to people.
She Initially Started as a Writer with MTV and then, as a Senior VP for NBC
Though the campus-show founder had a background in performance, she never delved into acting. According to Grandstaff, she always felt intimidated and unworthy of big screens. She once tried her acting though it was in sketch comedy and group improvs, nothing elaborate.
Although she lived close to Chicago where she would have been able to get a head-start on acting, she never got around to going. Soon she landed herself a job with MTV and her journey to fame began.
Tracy Grandstaff got a job at MTV in 1994 as a writer-producer. She eventually got involved as part of the production of The Real World. While being part of the project, the writer moved on to answering phone calls as she worked in the 'Development' department for a while.
She kept transitioning as she moved from working out on-air promotions to being part of Beavis and Butt-Head. The pilot episode of the animation was written by Mike Judge and was well-accepted. With this, Tracy's job as a voice actress began.
She, alongside other writers, was given the task to develop the script and eventually, the series. Owing to the fact that there were few MTV workers at the time and they were operating on little or no money, she was conscripted into most of the execution.
As the only female writer back then, Grandstaff had to play some of the female characters in 'Beavis and Butt-Head'. When the character of Daria was established to be precisely how the producers wanted it, it became her thing.
Tracy Grandstaff as the Voice of Daria
Here is one similarity you would find between the character Daria and Tracy; they have monotonous voices. Another is that they both wore baggy clothes in high school and were 'tomboyish'.
Something Grandstaff doesn't think she shares with the character she voiced from 1995 to 2002, was her sarcastic nature. The character, 'Daria' was a hybrid of Janeane Garofalo and Sarah Gilbert from Roseanne. There was a bit of the actress in the character as well but not so much as Tracy was nicer in high school than the 'no-nonsense' character she portrayed for years.
For the duration of her voice acting career, Tracy has played the following character:
Beavis and Butt-Head (1993-1997 animated TV Series) – As voices of Daria Morgendorffer, Mrs. Stevenson, Cassandra, Mrs. Cleaver
Daria in 'Is It Fall Yet?', 'Is it College Yet?' Look Back in Annoyance (2000- 2002 Movies) – As the voice of Daria Morgendorffer
Daria (1997 – 2002 animated TV Series) – As the voice of Daria
The voice actress was also part of a few video games based on her special character. Some of these video games include:
Daria's Inferno (2000)
Beavis and Butt-Head in Virtual Stupidity (1995)
Tracy Grandstaff is Married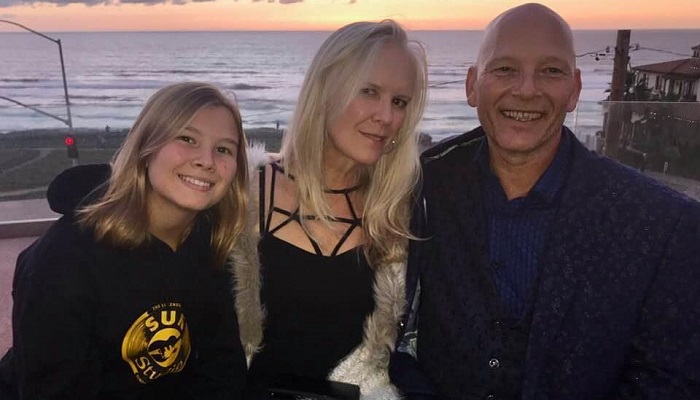 Grandstaff's marital status isn't a piece of information that is explicitly spelled out on the internet. Nonetheless, drawing from interviews granted, Tracy Grandstaff is married. As of 2016, she spoke about being a mother to a 12-year-old girl. The name of her daughter is Zoe Gruber.
Speaking about her daughter, she mentioned that the then-12-year-old was hooked on 'Daria'. Tracy's daughter stumbled upon the animation series by herself.
While the actress found it cute that her daughter loved the character and even dressed up as the sarcastic teenage student for Halloween, she admitted that she would rather have her daughter follow the show than other TV shows back then.
Tracy's husband is a creative just like her, as he, at the time she shared the information, was a band director. His name is Daniel Gruber. Tracy's husband, Daniel, worked in a high school in California and she used to attend some of his events like the Friday night games.
READ ALSO: Irmelin Indenbirken Is Leonardo DiCaprios Mother: 10 Fascinating Facts
She Was the Senior Vice President at NBC and Works at Comedy Central
When 'Daria' the animation series drew to a close, so did Tracy's career as a voice actress. By 2016, she was the senior vice president at NBC. She occupied the role of the senior vice president in the National Broadcasting Company in Original Programming.
According to her LinkedIn profile, Tracy Grandstaff resumed as a Vice President at Comedy Central in June 2002. At the time, she was still partly with MTV as she was still voicing the part of Daria in the spin-off's 5th season.
2002 marked the end of the production of the animated series. The actress also confessed that as she had begun work at Comedy Central at the time, she had to sneak out to go for voicings.
Tracy has been with Comedy Central since 2002 and by 2009 got promoted to vice president of Brand Creative. An addition to Grandstaff's resume is her job as a staff writer for Taina at Nickelodeon. She worked at Nickelodeon from 2000 to 2002.
Tracy Grandstaff's voice is one that could be recognized especially by fans of the 90s animation. In spite of that, she initially shied away from acting but is now one of the well-established voice actresses in America. As a writer reverted to writing for and with other franchises and has been doing well in that capacity.